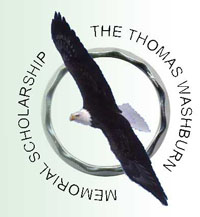 Thomas Washburn graduated from Fredericton High School and studied engineering at the University of Waterloo in Ontario. He was killed while working in Saudi Arabia in May 2004. To create a lasting memorial to Thom, friends, family and organizations have donated to the Thomas Washburn Memorial Scholarship Fund administered by the Fredericton Community Foundation.
The Fund generates scholarships for students who have graduated from a high school in Fredericton. The scholarship must be used to study engineering at a Canadian university. Each fall, from 2005 through 2008, a new entrance scholarship was awarded. Based on adequate marks, each scholarship was renewed for the second and third year of study.
The value of the scholarship is dependent on the yield of the Scholarship Fund. Normally, in any given year, there is one student in each of the first three years of the program. So even in a bad year, when the fund does not yield the full $12,000, a $8000 commitment to the previous two scholars must be met. Unfortunately, because of the depression in the economy, no first year scholar could be chosen in 2009.
The Thomas Washburn Scholarship Committee is delighted to report that, every year since 2010, the upturn in the economy has permitted the resumption of a yearly awarding of the scholarship.
While the scholarship is awarded for the first three years of the student's engineering studies, the funding has actually been paid out at $2000 per term for six terms. After each term is completed, the Scholar sends the transcript of his or her marks to the Scholarship Committee. If satisfactory, the Committee instructs the Foundation to issue a cheque to be used towards the next term's university costs. It is made out to the University but it is delivered to the University by the student.
If you wish to make a donation to Fredericton Community Foundation (390 King Street, Fredericton, NB Canada E3B 1E3), the name of the Fund i.e. The Thomas Washburn Memorial Scholarship Fund, should be identified on the cheque. For more information on the scholarship, the man it honours, the Foundation holding the Funds, or the scholars receiving the award, we recommend the following links:
© Copyright 2012 Sheila Washburn