TONY MASON
1944-2004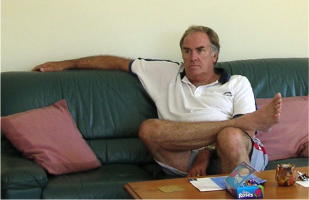 On May 1, 2004, terrorists gained access to the offices of ABB Lummus Global in Saudi Arabia to kill expatriot engineering managers as a warning to all others to get out of their country, thereby crippling the refining industry and destabilizing the government. Two Americans, two British nationals, one Canadian and an Australian were targeted. All the men were employees of ABB Lummus Global at the $200 million ethylene plant expansion under construction for Exxon Mobil at Yanbu on the Red Sea. The Australian was Tony Mason, Construction Director of the Project. He and Thom Washburn were talking in the doorway of Thom's office when both were shot. While Thom died two weeks later in Houston, Texas, Tony and four others died of their wounds that day.
Tony was born in the UK on June 6, 1946. He was one of three sons of James and Mary Mason. He did his electrical engineering in the British Navy. After leaving the Navy, he worked on many overseas assignments including India, Portugal, Iran, Canada, Russia, Indonesia, Saudi Arabia and many outback jobs in "Oz", with mines and desalination plants. He fell in love with Australia and he and his wife Linda moved there twenty years ago. Tony called it God's country.
When he wasn't working long hours on foreign assignments, Tony and Linda loved to scuba dive together, often from their 30 foot power boat (a Sea Ray). Tony played golf and was introduced to clay pigeon shooting while they were in Houston and, much to his delight, he even shot for the ABB team. But his pride and joy were his daughter and son, Sherri and Clint, and Sherri's two children, Toni Tara (18) and Daniel (15). He adored his children and grandchildren.
Tony was six feet six inches tall: a big man with a big heart and a big laugh. People he worked with told Linda how they loved to hear him laugh. He never stayed still for more than five minutes at a time. He was always ready to go out to eat. He never drank alcohol but loved icecream and chocolate. Linda says that his family have many wonderful memories of their guy which will live in their hearts forever. "Sometimes when I'm sad I realize that I can hear Tony laugh and it makes me want to laugh, even as the tears fall" she says.
Linda Mason had met all but one of the other five engineering managers who were shot. She says "I try to think of them together and only hope they have not re-engineered those Pearly Gates. They will be opening and closing so fast we will have to be super fit to get in! They were a great team." AMEN
Updated on November 30, 2004 ~ ©Sheila Washburn 2004