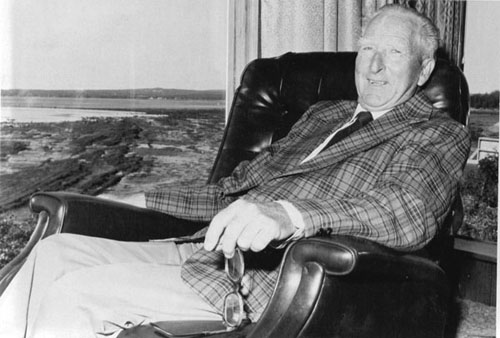 Earl Thomas Caughey, July 5, 1906 to September 24, 1993
ST. ANDREWS - Court of Queen's Bench Justice Earl Thomas Caughey had passions in his life, like golf, sailing, his garden and local history.
His children, Sheila Washburn of Fredericton and Michael Caughey of Kanata, Ont., recall sailing on the New Dawn, [one of] the 17-foot sloop[s] which Earl and his brothers, David Judson Coughey and Jamie Moffat Coughey, built in the 1930's. "We grew up on [the water]" recalled Sheila. She spoke from her parents' home on Water Street, St. Andrews where Mr. Caughey died on Monday at the age of 87.
Mr. Caughey, who moved to St. Andrews with his family at five years of age in 1911, researched the Irish, Loyalist and pre-Loyalist sides of his family- and decided years ago to change the spelling to "Caughey". His brothers and the rest of the family continue to spell it "Coughey", which made for no end of jokes among golfing buddies, especially - and confusion among sports writers who had to remember who used the "a", and who used the "o".
"The circle of friends in the curling pretty well overlapped the circle in golf", Michael said. He added that his father had other friends with whom he went hunting - a Charlotte County passion - every year.
[Earl was the son of] Thomas James Coughey and Madeline Eunice (Wood) Coughey. Thomas had left his home at Lower Perth when the family farm burned .... [and had as a youth] lived [for a while] with his relatives, the Bishops, in Woodstock, NB. [Later] he worked ... in the Boston area (where his older sister lived at that time). [Tom] met Madeline, from Springfield, Mass., while in Boston, and returned to Canada [with her] to work in the railroad village of McAdam. [It is there that Earl, their eldest was born in 1906.] [Tom] became a local magistrate, in the days before magistrates needed law degrees, after the family moved to St. Andrews. One of Earl's brothers, Thomas, died at two years of age. The other three boys and their [two] sisters ... grew up in the Charlotte County Shiretown.
Earl, the eldest, graduated from Prince Edward School at 15 ... and graduated from the University of New Brunswick with a bachelor of arts degree in 1926. He studied law at Osgood Hall, Toronto, where he graduated in 1930. He practised law for two years in Toronto, but returned to St. Andrews in 1932 to set up practice in the early years of the Great Depression.
In St. Andrews, he met an Ontario girl, Estella Marjory Day, daughter of a [former] professor of the Ontario Agricultural College in Guelph, [Ontario. Prof. Day was living in Bradford at that time and developing a market garden on the Holland Marsh. Earl and Stella were] ... married on September 22, 1934. "He had asthma and was not supposed to live past [30]", Sheila said. The asthma, plus a bout with scarlet fever in the 1930's made him ineligible to enlist in the Second World War.
Mr. Caughey, named Queen's Counsel in 1958, practised law until 1963, when the government appointed him a Provincial Court judge. He became a County Court judge in 1971, and a Court of Queen's Bench Justice when the government reorganized the court system in 1979. He retired at 75 in 1981. The appointment to the bench in 1971 forced an end to his affiliation with the Liberal Party, but he continued many other community and sporting activities.
He was the last surviving charter member of the St. Andrews Kiwanis Club, which he helped found in the late 1930's.
He and Estella belonged to the St. Croix Valley International Gardening Club and he faithfully maintained the elaborate garden around their home after 'Stella died on June 11, 1984.
Mr. Caughey helped found the New Brunswick Golfing Associated in 1934, and helped found the St. Andrews golf Club and the St. Andrews Yacht Club.
The ... New Dawn [was sold] in the 1960's and Mr. Caughey bought a new boat, the SharonSue, a 24-foot sloop from Mahone Bay, N.S. He sailed this boat until two years ago......
He, Joan Jones and Ann Breault founded the Charlotte County branch of the Irish Canadian Cultural Association of New Brunswick in the 1980's. He travelled to Ireland, London and elsewhere to research family history...
He helped found the Sunbury Shores Arts and Nature [Centre] and the St. Andrews Arts Council.
He played the clarinet and saxophone as a [young man] but confined his music in later years to singing at Kiwanis meetings and similar functions.
In 1985, Mr. Caughey donated a stained glass window to the United Church in St. Andrews, in honour of the 30 years Estella spent as a Girl Guide leader. In 1988, he unveiled a plaque dedicating the children's area of the Ross Memorial Library, St. Andrews, to Estella's memory. [For many years she had been volunteer librarian going to the States to take library courses at her own cost and co-ordinating a team of local volunteers to help her accession and catalogue the books and run the library.]
His brother, David, retired principal of Oromocto High School, lives in Fredericton. Jamie, retired from a career in retail sales, lives in St. Andrews. His sister, Mary wood (Coughey) Hashey, a noted artist, lives in Fredericton. His other sister, Alice Elizabeth Coughey, lives in St. Andrews. David and Mary maintain homes in St. Andrews.
Other survivors include seven grandchildren, one great grandchild, and good friend Dorothy Jane Burns of Calais, Maine.
Rev. Basil Lowery will officiate at a memorial service on Saturday at 3 p.m., at Wesley United Church, St. Andrews. The family would appreciate donations to the St. Andrews Arts Council, or charity of the donor's choice. The MacDonald Funeral Home, St. Stephen, is in charge of the arrangements.
Return to the Top
Other Obituaries Washburn Page
This page was revised on February 11, 2006 © Copyright 2006 Sheila Washburn