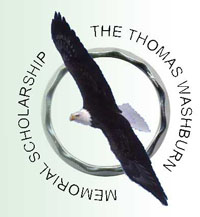 The Thomas Washburn Memorial Scholarship was awarded for the first time in 2005. It is a yearly entrance scholarship for a current graduate of one of the high schools within the City of Fredericton. It is granted for the first year and is renewable for two additional years. It is to be used toward tuition to study engineering at a Canadian university.
The recipient is a deserving graduating student who has made a significant positive contribution to the betterment of school and/or community and at the same time has demonstrated sound academic achievement.
The winner is expected to pursue further study at an accredited engineering school at a Canadian university commencing in the same year as graduation from high school.
The scholarship is renewable for a second and a third year providing that the student continues in an eligible engineering program in Canada and maintains an acceptable academic standing.
The method of selection and the final selection of the scholarship winner is to be determined by a committee comprised of, or appointed by, the immediate family of the late Thomas Washburn.
PROCESS OF SELECTION AND AWARD
An application for the Thomas Washburn Memorial Scholarship must include, but is not limited to:

A completed application form.
Letters of reference from two character referees.
A short essay which should include educational and career goals, why the applicant qualifies for the scholarship including non-academic attributes, and what receipt of it would mean to him/her.
A transcript of the applicant's high school marks to date.

The application package must be mailed (postmarked on or before March 31) to:
Dr. and Mrs. Owen Washburn, 181 Ross Terrace, Fredericton, NB E3A 8E5.

A few of the applicants may be interviewed by members of the Scholarship Committee in April or early May.

The winner will be announced either at a high school ceremony or assembly in June. At this time congratulations and a letter of intent will be presented.

The award will not be granted until after the Scholarship Committee has received the transcript of the Grade 12 marks and proof of the student's acceptance into an accredited engineering school.

For more information on the scholarship phone (506) 472-3842 or go to the link below or write to the Washburns at the address to the left.
© Copyright 2006 Sheila Washburn ~ This page was revised on January 8, 2009